Cybersecurity Tip: Don't Get Caught in the Narrative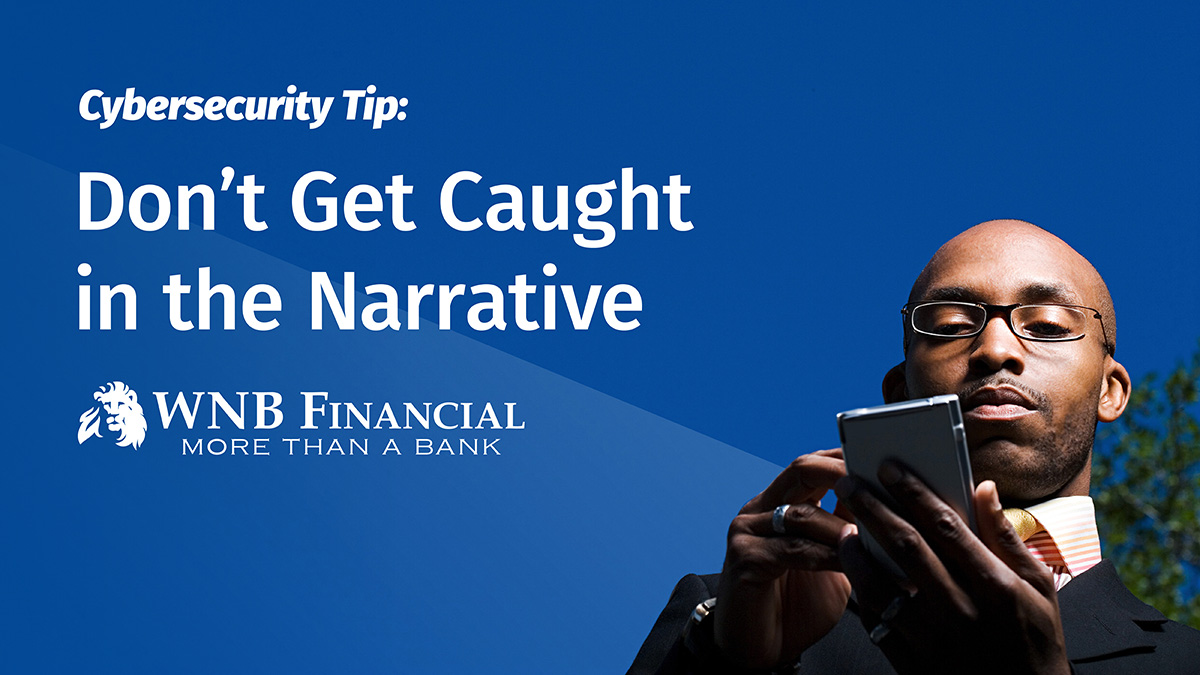 Security threats have evolved beyond the physical world, lurking in the corners of our online spaces. With our commitment to keeping your assets secure, we want to shed light on an increasingly common menace—financial scams. These fraudulent activities are getting more sophisticated, taking advantage of unsuspecting victims using a powerful psychological weapon—the illusion of urgency.
You might have experienced this. Your phone rings, an urgent email pops up, or a text message demands your attention. The sender warns of additional charges, the threat of services being cut off, or even impending legal action. They urge you to act swiftly, implying there's no time to second-guess or verify the situation. But hold on, isn't it strange for a legitimate company to rush you, threaten you, or provoke fear and panic? That's your first clue.
Don't Get Caught Up

Scam artists have mastered the art of keeping you caught up in the moment, distracted by panic, and pressured into acting impulsively. They weave a narrative so compelling that it becomes challenging to separate fact from fiction. However, you have a powerful tool to protect yourself—disrupting the narrative.
Remember, no matter how urgent the situation may seem, you have the right to pause, assess, and respond at your pace. A reputable institution will respect this process and give you the room to make informed decisions. If you find yourself feeling rushed or pressured, here's what you should do:
Collect facts: Ask for all the details you need to understand the situation. Who's calling? What's the issue? What actions are they requesting?
Pause the conversation: Politely inform the caller that you'll call back. If they respond with hostility or further threats, that's a red flag. A professional representative of a legitimate company will respect your decision.
Assess the situation: Once off the phone, take a deep breath and think objectively. Is their request reasonable? Remember a genuine company won't request payment via gift cards, Western Union, or mailed cash. These unusual payment methods are often a clear sign of a scam.
Reach out through established channels: If you decide to continue the conversation, contact the company via a trusted method—use the contact information from their official website or a previous correspondence.
Stand Firm, Stay Safe

At WNB Financial, we strive to keep your financial security at the forefront. Remember, any genuine communication from us or any other legitimate company should foster clarity, not chaos. We encourage you to be vigilant, trust your instincts, and take control of the narrative. When it comes to your financial wellbeing, there's no such thing as being too cautious.
If you have any questions or concerns, please contact us.